Dosing guidance
REVOLADE offers patients convenience and flexibility1
REVOLADE is a once-daily (OD) oral thrombopoietin receptor agonist (TPO-RA) offering the convenience of injection-free treatment with flexible dosing1
REVOLADE should be taken at least two hours before or four hours after any products such as antacids, dairy products (or other calcium containing food products), or mineral supplements containing polyvalent cations (e.g. iron, calcium, magnesium, aluminium, selenium and zinc)1

Treatment initiation1
Adults and paediatric patients aged 6–17 years:

– The recommended starting dose is 50 mg OD; for patients of East-/Southeast-Asian ancestry (such as Chinese, Japanese, Taiwanese, Korean or Thai), REVOLADE should be initiated at a reduced dose of 25 mg OD

Paediatric patients aged 1–5 years:

– The recommended starting dose is 25 mg OD

Dose adjustments1
Dose adjustment should be made to achieve and maintain a platelet count ≥50,000/μl to reduce the risk of bleeding

During therapy with REVOLADE full blood counts (FBCs), including platelet count and peripheral blood smears, should be assessed weekly until a stable platelet count (≥50,000/μl for at least 4 weeks) has been achieved

Titrate REVOLADE dosage based on patient's platelet count

A daily dose of 75 mg must not be exceeded
Increase by 25 mg/day to a maximum of 75 mg/day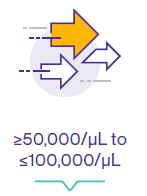 Maintain lowest dose of REVOLADE and/or concomitant ITP treatment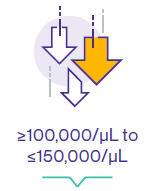 Decrease by 25 mg/day to maintain platelet counts that avoid or reduce bleeding†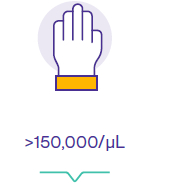 Stop REVOLADE and increase frequency of platelet monitoring to twice weekly‡

Discontinuation1
REVOLADE should be discontinued if platelet counts do not increase to a level sucient to avoid clinically significant bleeding after 4 weeks of therapy at 75 mg OD

Patients should be clinically evaluated periodically, and continuation of treatment should be decided on an individual basis by the treating physician. In non-splenectomised patients this should include evaluation relative to splenectomy

The reoccurrence of thrombocytopenia is possible upon discontinuation of treatment
Count on REVOLADE for a conventient and flexible ITP treatment1
FCT, film coated tablet; ITP; immune thrombocytopenia; OD, once daily.
*Following at least 2 weeks of therapy. †Wait 2 weeks to assess the effects of this and any subsequent dose adjustments.
‡Once the platelet count is ≤100,000/μl, reinitiate therapy at a daily dose reduced by 25 mg.
References:
REVOLADE FCT Summary of Product Characteristics.
Mar 2023 | IE174745