An established safety profile
With over a decade of real-world clinical practice and across 5 clinical trials, REVOLADE is an established immune thrombocytopenia (ITP) treatment with a proven efficacy and safety profile in adult and paediatric patients1–5
Summary of adult safety data
In the EXTEND study, no new safety findings were observed in >300 patients treated with REVOLADE, lasting up to 8.76 years1
Most adverse events (AEs) were mild-moderate1
92% of REVOLADE patients (n=277/302) experienced at least one AE of any grade but most were mild-moderate in severity (grade 1–2)
The most frequent AEs were headache (28%, n=86/302), common cold (25%, n=74/302), and upper respiratory tract infection (23%, n=69/302)
Serious AEs1
The most common serious AEs were cataracts (5%, n=16/302), pneumonia (3%, n=8/302), anaemia (2%, n=5/302) and alanine aminotransferase (ALT) increase (2%, n=5/302)
AEs occurring in >10% of patients (n=302)1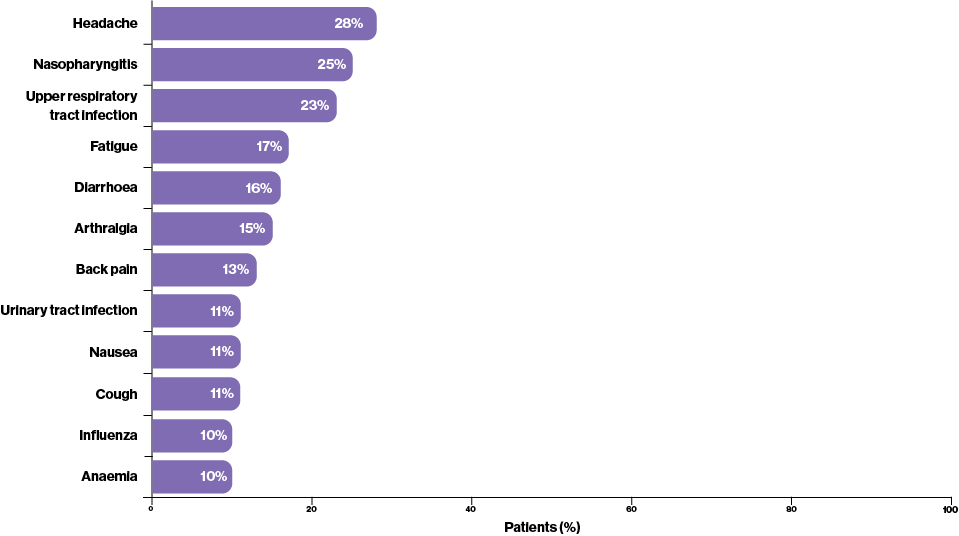 Adapted from Wong R, et al. 20171
Serious adverse events (AEs)2
While most AEs in the RAISE study were grade 1 or 2 in severity, 15% (n=20/135) of REVOLADE patients experienced grade 3 or 4 AEs. This was comparable to the 11% (n=7/61) treated with placebo
Bleeding AEs2
The rate of on-treatment serious bleeding was significantly lower in patients receiving REVOLADE (<1%, n=1/135) compared with placebo (7%, n=4/61; p=0.03)
Any grade of AE occurring in ≥5% of patients2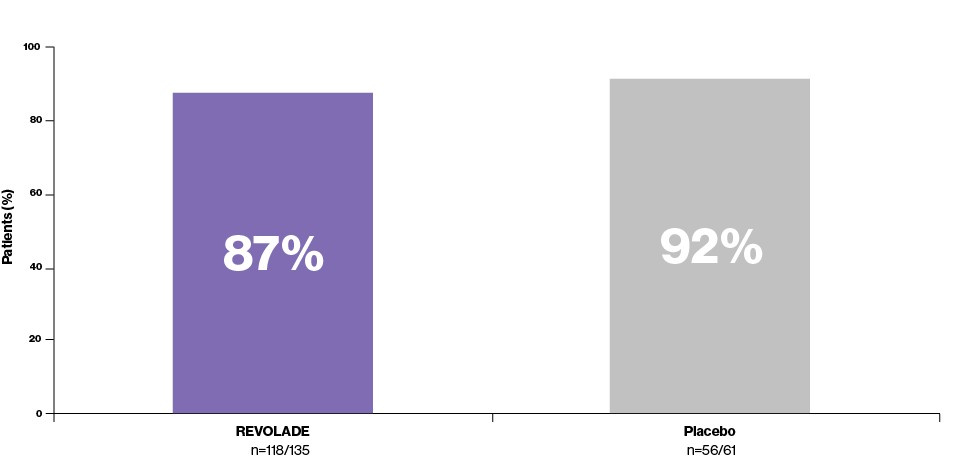 Adapted from Cheng G, et al. 20112
On-therapy vs. off-therapy adverse events (AEs)3
The frequency of on-therapy AEs (68%; 45 of 66 patients experienced 196 events) was similar to that of off-therapy AEs (63%; 41 of 65 patients experienced 122 events)
In addition to this, over successive cycles of treatment, no increase in the incidence of any specific AE was seen
Serious AEs3
Serious AEs occurred in 1 (2%, n=66) patient on therapy and 3 (5%, n=66) patients off therapy
The most common AEs observed in ≥10% of patients treated with REVOLADE3
Any AEs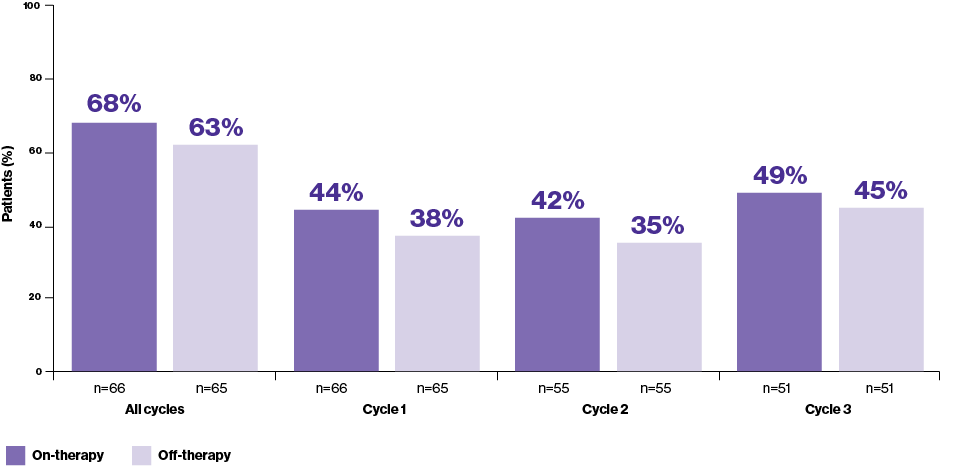 Adapted from Bussel J, et al. 20133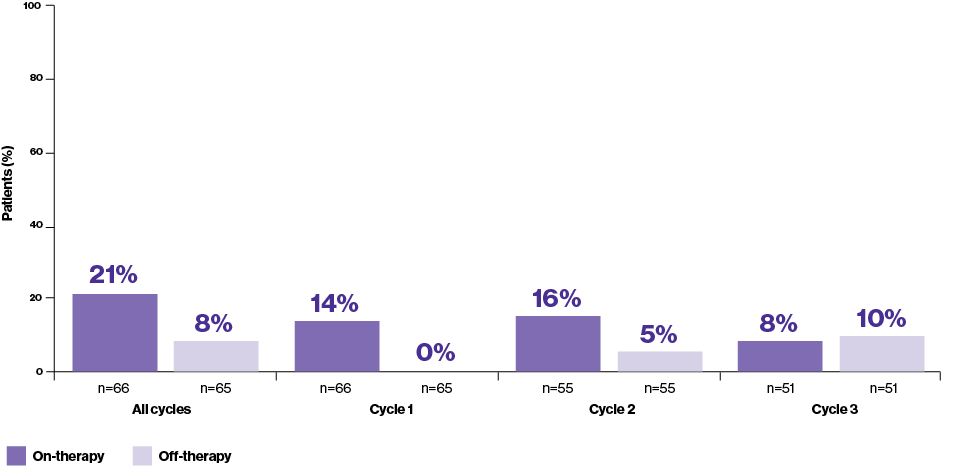 Adapted from Bussel J, et al. 20133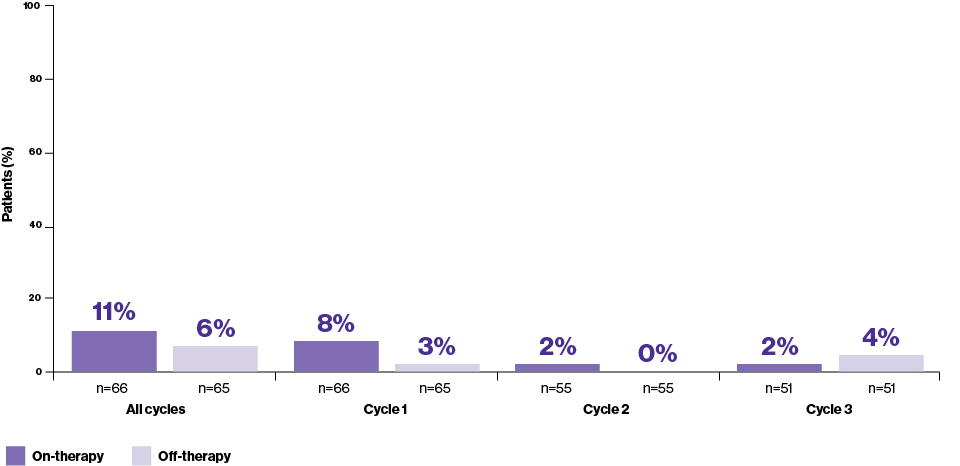 Adapted from Bussel J, et al. 20133
Summary of paediatric safety data
Adverse events (AEs) during the REVOLADE-only phase4
2 (3%, n=65) patients experienced increased alanine aminotransferase (ALT) concentrations that led to treatment discontinuation of treatment. Abnormalities were resolved with discontinuation of REVOLADE
An additional 3 (5%, n=65) patients experienced increases of ALT that were ≥3 times the upper limit of normal
2 met the liver stopping criteria and were withdrawn from the study
1 patient had the event at the 2-week follow-up after the last dose of study medication
No patients had new or worsening cataracts or thromboembolic events during the study, nor were any malignancies or thromboses reported
Adverse events (AEs) during the double-blind period5
8% (n=5/63) of patients receiving REVOLADE had alanine aminotransferase (ALT) levels ≥3 times the upper limit of normal (ULN)
2 patients met liver chemistry stopping criteria and were withdrawn
Hepatobiliary laboratory parameters resolved in 2 of 3 remaining patients while they were still on treatment
Hepatobiliary laboratory parameters resolved in 1 patient after study treatment discontinuation in the open-label treatment period
AEs during the open-label period5
of patients had grade 3 or 4 AEs
1 patient had grade 4 neutropenia, which was judged to be unrelated to REVOLADE by the local investigator

of patients treated with REVOLADE were judged to have:
A new cataract (n=1)
Progression of a pre-existing cataract (n=1)


Both patients were receiving corticosteroids

of patients receiving REVOLADE had ALT concentrations ≥3 times the ULN
3 patients met the protocol-defined stopping criteria
REVOLADE for a trusted treatment patients can count on1–5
AE, adverse event; ALT, alanine aminotransferase; ITP, immune thrombocytopenia; ULN, upper limit of normal.
References:
Wong R, et al. Blood. 2017;130:2527–2536.

Cheng G, et al. Lancet. 2011;377:393–402.

Bussel J, et al. Br J Haematol. 2013;160:538–546.

Bussel J, et al. Lancet. 2015:315–325.

Grainger J, et al. Lancet. 2015;386:1649–1658.
IE | May 2022 | 174745