KESIMPTA® has a demonstrated safety and tolerability profile across pooled ASCLEPIOS I and II studies1,9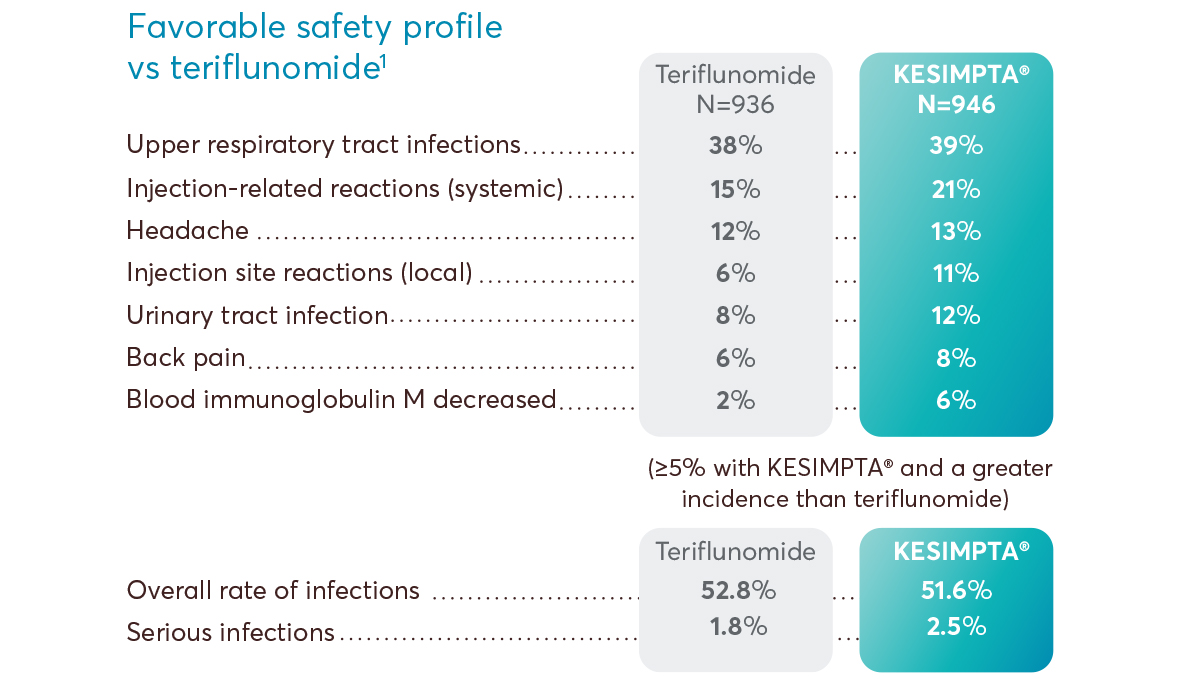 Treatment Discontinuations:
Treatment discontinuation rates due to adverse events were similar between KESIMPTA® (5.7%) and teriflunomide (5.2%)¹
The decrease in mean levels of IgM in patients treated with KESIMPTA® was not associated with increased risk of infection14
LLN=lower limit of normal. A full list of adverse events is available in the Summary of Product Characteristics.
The incidence of injection-related reactions was highest with the first injection, decreasing significantly with subsequent injections.
† During the studies, treatment was interrupted if IgM levels of patients dropped 10% below the LLN or if IgG levels dropped 20% below the LLN.9
References:
1. KESIMPTA® SPC available at www.medicines.ie last accessed July 2022

9. Hauser SL, Bar-Or A, Cohen JA, et al; for the ASCLEPIOS I and ASCLEPIOS II trial groups. Ofatumumab versus teriflunomide in multiple sclerosis [supplemental appendix]. N Engl J Med. 2020;383(6):546-557.

14. de Seze J, Bar-Or A, Correale J, et al. Effect of ofatumumab on serum immunoglobulin levels and infection risk in relapsing multiple sclerosis patients from the phase 3 ASCLEPIOS I and II trials. Presented at: the 6th Congress of the European Academy of Neurology; May 23-26, 2020; Virtual Congress.