________________________________________________________________________________________________________________________________________________________________________________________________________________________________________________________________________________________________________________________________
Inclisiran is indicated in adults with primary hypercholesterolaemia (heterozygous familial and non-familial) or mixed dyslipidaemia, as an adjunct to diet:
in combination with a statin or statin with other lipid-lowering therapies in patients unable to reach LDL-C goals with the maximum tolerated dose of a statin, or
alone or in combination with other lipid-lowering therapies in patients who are statin-intolerant, or for whom a statin is contraindicated.1
Leqvio® is not reimbursed in Ireland at this time.
Explore our growing repository of resources designed to provide useful information on Leqvio® and other relevant topics for healthcare professionals treating patients with ASCVD.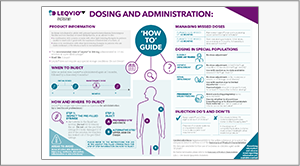 LEQVIO®  DOSING AND ADMINISTRATION: 'HOW TO' GUIDE
Key steps and important information you need to know about LEQVIO® dosing and administration on one page.
GUIDE TO USING LEQVIO®
A short video explaining how to administer Leqvio®, including step-by-step instructions for injection.
LEQVIO® MOA VIDEO
A video displaying the mechanism of action of Leqvio®, the first and only siRNA LDL-C-lowering therapy.1,3,4
ELEVATED LDL-C: THE IMPORTANCE OF EARLY INTERVENTION
A short animation highlighting the consequences of long-term exposure to persistently elevated LDL-C.
As the site grows, we will be adding lots of new content. SIGN UP to receive our email communications and make sure you don't miss the latest updates.
ASCVD, atherosclerotic cardiovascular disease; HCP, healthcare professional; LDL-C, low-density lipoprotein cholesterol; MOA, mechanism of action; siRNA, small interfering ribonucleic acid.
References
Leqvio® Summary of Product Characteristics. Accessed August 2022 at www.ema.europe.eu
Ray KK et al. N Engl J Med 2020;382(16):1507–1519.
Stoekenbroek RM et al. Future Cardiol 2018;14(6):433–442.
Klinovski M et al. CADTH Issues in Emerging Health Technologies, 2019. Canadian Agency for Drugs and Technologies in Health.