Fast and lasting efficacy7–9
Did you know?
Registry data show that the majority of biologic-initated PsA patients present with 3+ manifestations (n=354)10

  Cosentyx has demonstrated fast and lasting efficacy in all 6 key PsA manifestations*1-4

  Cosentyx is recommended by EULAR* for use in PsA as a first-line biologic after DMARD failure11
Dive into the data below to see how Cosentyx can help your PsA patients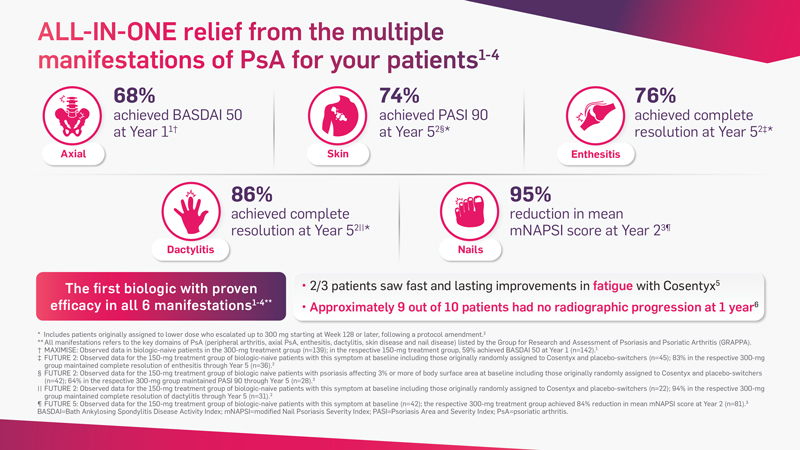 Take the next step
We're here to support you with dedicated Hospital Specialists up and down the country. Let us connect you with your local representative to discuss how you can get the most out of Cosentyx.
Or find out more using the links below…



axSpA, axial spondyloarthritis; DMARD, disease-modifying antirheumatic drug; EULAR, European League Against Rheumatism;
Baraliakos X et al. Ann Rheum Dis. 2020. doi:10.1136/annrheumdis-2020-218808.
McInnes IB et al. Lancet Rheumatol. 2020;2(4):e227-e235.
Novartis data on file. CAIN457F2342 (FUTURE 5) 2-Year Interim Report: mNAPSI and PASI 100 data. October 2019.
McInnes IB et al. Lancet. 2015;386(9999):1137-1146.
Gossec L et al. Ann Rheum Dis. 2017;76:949. Abstract SAT0463.
Van der Heijde D et al. Rheumatology (Oxford). 2020;59(6):1325-1334.
Deodhar A et al. Arthritis Rheumatol. 2020 (epub ahead of print).
Reich K et al. Br J Dermatol. 2019;181:954–66.
Thaci D et al. J Am Acad Dermatol. 2015;73:400–9.
Ogdie A et al. Arthritis Rheumatol. 2019; 71 (suppl. 10). Abstract 2475.
Gossec L et al. Ann Rheum Dis. 2020;79: 700–12.
*Recommendation 6: In patients with peripheral arthritis and an inadequate response to at least one csDMARD, therapy with a bDMARD should be commenced; when there is relevant skin involvement, an IL-17 inhibitor or IL-12/23 inhibitor may be preferred.9
†Cosentyx 150 mg group includes placebo-switchers and patients who escalated to 300 mg starting at week 128 or later, after a protocol amendment.8
‡The primary endpoint of the FUTURE 2 study was ACR20 response at Week 24 and was met (Cosentyx 300 mg: 54%, Cosentyx 150 mg: 51%, placebo: 15%; P<0.0001 for both).1 §As observed in patients (94 with Cosentyx 150 mg) with this symptom at baseline.1
¶As observed in patients (40 with Cosentyx 150 mg) with this symptom at baseline.1
¥The primary endpoint of the TRANSFIGURE study was percentage change in total fingernail NAPSI score from baseline to week 16 and was met (Cosentyx 300 mg: -45.3%, placebo: -10.8%; P<0.001).3
€The primary endpoint of the MAXIMISE study was met. ASAS20 response at Week 12: Cosentyx 300 mg 63%, placebo 31%; P<0.001 (multiple imputation).5