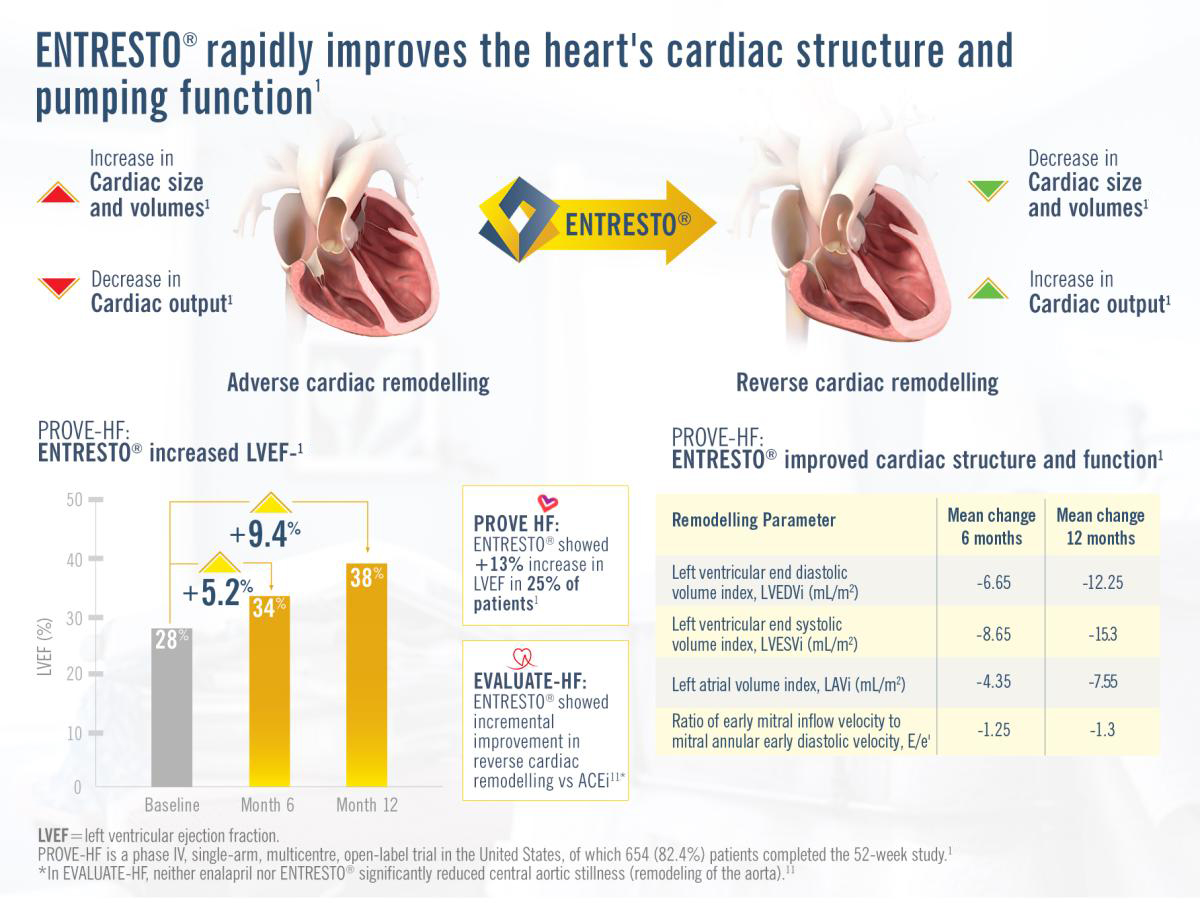 Watch the reverse cardiac remodelling video below to explore how cardiac damage can occur even in the absence of symptoms2
Reverse cardiac remodelling is linked to cardiac function improvements in HF patients3
ENTRESTO reduces cardiac stress and improves CV outcomes vs ACEi (enalapril)4,5
In a meta-analysis of 20 studies (N=10,175) of ENTRESTO vs placebo or ACEi/ARBs, ENTRESTO increased LVEF by nearly 5% (95% CI: 4.13–5.65) vs ACEi/ARBs,§6 and consistently led to:6

Improvements in key echocardiographic measures of reverse cardiac remodelling vs ACEi/ARBs

Therapeutic effect, with reverse cardiac remodelling benefits, manifest at 3 months and further increased over time

Greater benefit for patients treated with ENTRESTO compared to ACEi/ARBs as early as possible in the course of HFrEF
In EVALUATE-HF, ¶ENTRESTO showed incremental improvement in reverse cardiac remodelling vs ACEi (enalapril).#11
In EVALUATE-HF, neither enalapril nor ENTRESTO significantly reduced central aortic stiffness (primary endpoint).11
Learn more about the wealth of data supporting the use of ENTRESTO in your chronic HFrEF patients1,7,8,10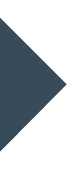 ENTRESTO is indicated in adult patients for the treatment of symptomatic chronic heart failure with reduced ejection fraction.9
In Ireland, criteria for reimbursement approval of ENTRESTO® applies
* PROVE-HF is a phase IV, single-arm, multicentre, open-label trial in the United States, of which 654 (82.4%) patients completed the 52-week study. This open-label study evaluated the effects of ENTRESTO on biomarkers, cardiac remodelling, and patient-reported outcomes in heart failure with reduced left ventricular ejection fraction. The correlation between the change in concentration of NT-proBNP and E/e′ was added to the statistical analysis plan prior to the database lock.1
† LSM change from baseline.
‡ For all comparisons.
§ This result was obtained in a pooled data analysis of 10 out of the total 20 studies included in the meta-analysis (N=707).6
¶ EVALUATE-HF was a multicentre, randomised, double-blind, double-dummy, parallel-group, active-controlled, forced-titration trial comparing ENTRESTO vs enalapril on changes in central aortic stiffness in patients with HFrEF over 12 weeks.7
# In EVALUATE-HF, neither enalapril nor ENTRESTO significantly reduced central aortic stiffness (remodelling of the aorta; primary endpoint). EVALUATE-HF included at randomisation n=61 NYHA Class I patients (13% of the total patients).7
ACEi, angiotensin-converting enzyme inhibitor; ARB, angiotensin receptor blocker inhibitor; CI, confidence interval; CV, cardiovascular; E/e', ratio of early mitral inflow velocity to mitral annular early diastolic velocity; HF, heart failure; HFrEF, heart failure with reduced ejection fraction; LAVi, left atrial volume index; LSM, least squares mean; LVEDVi, left ventricular end-diastolic volume index; LVEF, left ventricular ejection fraction; LVESVi, left ventricular end-systolic volume index; NT-proBNP, N-terminal-pro-brain natriuretic peptide; NYHA, New York Heart Association.
References:
Januzzi JL Jr, et al. JAMA 2019;322(11):1085–1095.
Mann DL, Bristow MR. Circulation 2005;111(21):2837–2849.
Reis Filho JR, et al. Arq Bras Cardiol 2015;104(6):502–506.
Velazquez EJ, et al. N Engl J Med 2019;380(6):539–548.
Ambrosy AP, et al. J Am Coll Cardiol 2020;76(9):1034–1048.
Wang Y, et al. J Am Heart Assoc 2019;8(13):e012272.
Claggett B, et al. N Engl J Med 2015;373(23):2289–2290.
Lewis EF, et al. Circ Heart Fail 2017;10(8):e003430.
ENTRESTO Summary of Product Characteristics. Accessed December 2021 at www.medicines.ie.
McMurray JJ, et al. N Engl J Med 2014;371:993–1004.
Desai AS, et al. JAMA 2019;322(11):1077–1084.